MENDOCINO volunteer
FIRE DEPARTMENT
III: The Future: Expanded Facilities for Greater Safety and Savings
As we begin the second decade of the twenty-first century, the Department anticipates more change and growth. Our plans for the future will increase the level of fire protection and improve response time for all calls. Specifically, the Department is planning for the construction of substations at the further ends of the district.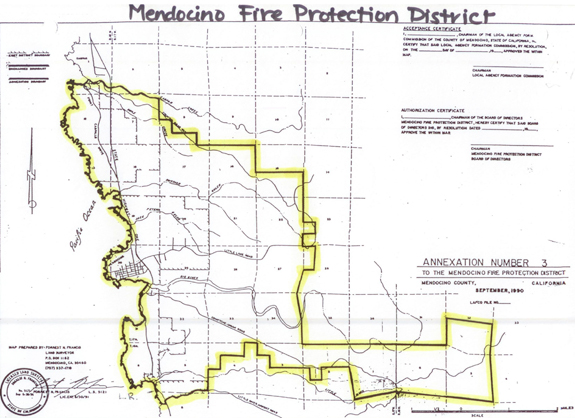 The Mendocino Fire Protection District encompasses a large and diverse area, covering twenty-three square miles. The district extends six miles from its south end at Little River Airport Road, to its north end at the Caspar Bridge. It extends four miles east from the coast for most of its boundaries, but extends eight miles east on Comptche-Ukiah Road. This means the far end of the district at Comptche-Ukiah Road is a full nine miles from the fire station on Little Lake Road. Likewise, portions of Road 409 are seven miles from the Main Station.
A greater distance from the station means not only greater risk to property and lives because of longer response times, but also increased homeowners insurance rates. Insurance rates are determined in part by proximity to the nearest fire station. When a property is farther than five miles from a station, either insurance is several times more expensive than closer properties, or insurance is not available at all.
This department and others have addressed this problem by constructing small substations in outlying areas. A substation is usually just a simple garage to house one or two engines, often accompanied by a water storage tank or other water source. The Department already has one such substation on state property at CalFire's Woodlands station, built in 1985, that serves eastern portions of Little Lake Road.
The current plan is to construct two additional substations in the next several years, one on Comptche-Ukiah Road, and the other on Road 409, on property already owned by the Department where a water storage tank now sits.
According to Chief Dave Latoof, a substation on Comptche-Ukiah Road would improve the Department's fire protection services in several ways. "We have several firefighters who live on Comptche-Ukiah Road. They arrive on scene quickly for calls in their area, but they often need more resources brought by our engines from Station 840 several miles away. With an engine close by, they could immediately begin putting water on a fire." New substations would also increase membership, explains Chief Latoof, "Young men and women are more likely to join the Department when they know there is a fire truck near where they live. They know they can run down and get on that truck and make a difference."
A substation on Comptche-Ukiah Road also would solve the problem of portions of the district being farther than five miles from a station. That, in turn, would mean dramatically lower homeowners insurance rates for those property owners. This was Fort Bragg's experience. The Fort Bragg Fire Department is nearing completion of its Little Valley Fire Company, a substation located on Little Valley Road north of Fort Bragg. Residents of the area were facing insurance premium increases of up to $4000 a year. The substation will prevent that.